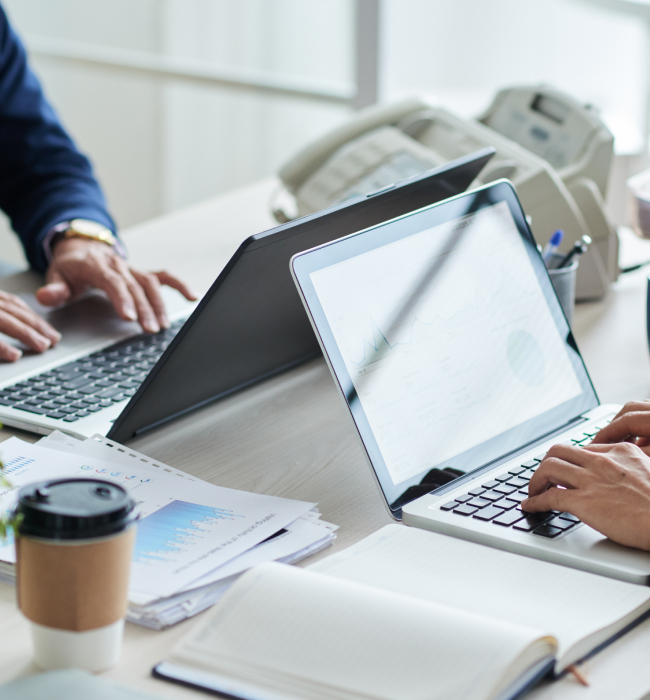 Boost your company's reputation with a website that draws attention
We are web development company, create modern, intuitive and functional websites. After all, aesthetics is not enough. We make them not only easy (and fast!) to navigate, but also accessible on any device and in any browser. In other words: UX, UI and RWD are no mystery to us.
Websites for SMEs
and corporations
We also make sure that updating and adding new content to your website is user-friendly and that your website is properly secured and protected against attacks.
Once the website is launched, we ensure that it is highly visible, thus attracting your potential customers. And all this thanks to our 360o service.
The websites we construct are made from scratch using technologies such as VUE.js, React and Laravel. These are open source solutions, which means they are free and guarantee a flexible approach. Apart from more complex websites, we also create simpler web apps, completed within 20 days only!
The content management system (CMS) we provide, in turn, is the famous and well-liked WordPress, which is also the so-called open source. This is our specialty – we can build anything with it! We create templates, modules and configurators from scratch.
What makes it unique is the easy-to-use interface, variety of plugins, widgets, themes, etc., in short, the site can be freely modified, and data can be "collected" from it, without the need to use any external tools. (Although it is always a good idea anyway!).
Naturally, we can build a completely new CMS from scratch at the client's request.
Interested?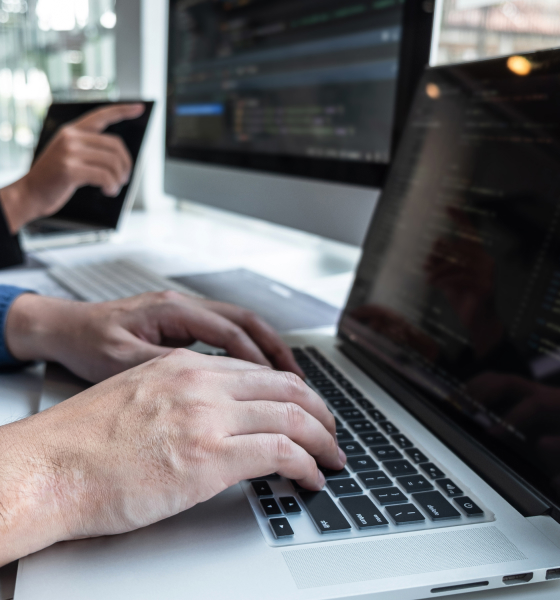 Advertising, online marketing
We'll make your offer visible wherever your customers go – on Google's network, on Facebook, Instagram, LinkedIn and TikTok. And this is possible thanks to ads – Google Ads, Facebook Ads and others.
SEO Positioning
If your website is not visible on any keyword phrase in the top 10 of Google, it means that building it was… a waste of money. That's why we will take care of its high ranks in the most popular search engines.
Social media management
A business becomes more credible when it not only has its own website, but also its own social media channels. We will do everything to make your feeds attract as many recipients as possible – so that they become not only a marketing tool, but also a PR tool.
Copywriting
We create texts that captivate: sales slogans, product descriptions, newsletters, SEO texts. And if you need content for offline materials, we will produce it for you, too.
Graphic design
Your current website or other element of your business needs a makeover? We will take care of branding and create any eye-catching graphic work, from logos to 3D visualizations.
Support
If you have any questions, please feel free to contact us. During our working hours you can always expect our support. Please send an e-mail to biuro@pageart.pl or call us: +48 693 475 813.
International expansion
Once your offer reaches the Polish market, we will take you one step further – we will support you in entering new markets. We will take care of buying new domains, translating subpages, online ads campaigns and more.
Photo/video services
Considering some images or videos for your website? That'a terrific idea – 74% of marketers report that video gives a higher return on investment (ROI) than static images (biteable.com).
Online event organization
Webinar? A live Q&A session? How about an online pandemic conference? We can arrange any event to promote websites, regardless of whether we have built it or not.
Steps of the website development process
Find out what it's like to work with us!
We analyze your needs
The whole thing starts with a conversation. We run a workshop with you to understand your needs and the expectations you have for your website.
We create a mock-up of your website
In FIGMA we design a fully interactive, clickable website mock-up, which is sent to you as a link. You make your comments on the fly, adding them to the mock-up. This significantly speeds up our work on the project.
We code
If the way the website works and its design has been approved by you, we can start the coding process, which is what we love most.
We test
Before your website is hosted on a domain, we have to test it multiple times. We check if it meets the assumed objectives and if all functionalities work as expected. At this stage you once again give your feedback.
We launch
If the website has been perfected in every detail, we can now introduce it to a wider audience. At this stage, we also collect valuable feedback from you and its users in order to introduce necessary fixes.
We maintan
We take full care of your website after it is launched. We take care of security, bug fixes and updates. If you wish, we will also offer a 360o service for websites.
What our clients have
to say about us
Would you like to know how much does it cost to create a website? Fill out the short form and we will get back to you as soon as possible.